​Holiday Drive 2020 – unreal!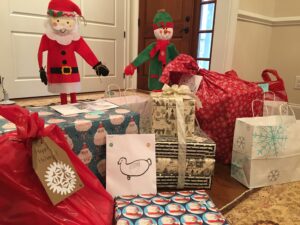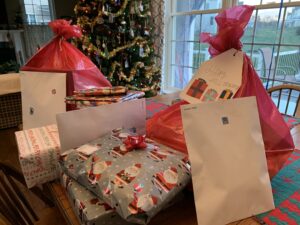 Our Holiday Drive 2020 looked different this year due to Covid, but even with the changes – this community support was incredible!  We will definitely be able to support over 160 of our local neighbors with holiday cheer!  The requests went out, and you answered! Thank you – thank you – thank you!  The elves filled their sleighs and everything has been delivered! Check below for some notes of thanks!
"Thank you for the gifts, we really appreciate it. May you all have a wonderful holidays with your love ones."
"Thank you again for the drop off! We truly appreciate it!!!!"
"Thanks so much.  This is all just awesome!  What a difference for our holidays!"
"Thank you very much for everything!! It definitely took some stress off of my shoulders.  I truly appreciate everything T&E Care has done."
More notes can be found on the "Words of Care" page.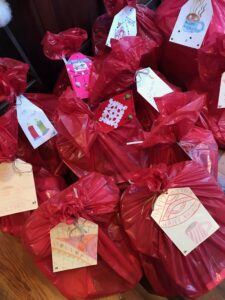 Thanks so much for your phenomenal support!
Questions should be sent to holidays@tecare.org.
THANKS to all who helped out!
Each individual and family that lent a hand allowed T&E Care to support 160+ families… we can't thank you enough. No matter the size of the donation – they all added up!  PLUS there were many special groups that helped out during this challenging year – each re-inventing the way they've helped in the past.  Special thanks to those groups including:
All our school reps who challenged each school to run a drive – even with the schools going virtual: Patty Neeb, Auste Joost, Kirstin Morris, Tara Donnelly, Jami Barnett, Jacqui Cosgrove, Meredith Gibson, Bryn Arata, Amanda Miller, Shirley Osborne, Amanda Ivory, Kim Jamme, Danyll Lockett, Nadia Gerard, and Beth Breault; plus 2 special reps:  Jen Tyrell and Molly Ryle
The TESD administration
The T&E Kids Care Club at CHS
Paoli Village Shoppes
The Covered Bridge Garden Club
Holland Advertising
Crush on Creative
St. Norberts Giving Tree
CertainTeed/Saint-Gobain Women's Network
Stillwater Capital Advisors
Perspective Financial Group, an Alera Group Company
Acme
Mom's Club of Tredyffrin/Easttown
Spring Mills Partners LLC
Four Counties Garden Club
Conestoga Girls Lacrosse
TEMS Student Council
TEYSA (coordinated by Kirsten MacFarland)
FC Europa
Conestoga Girls Field Hockey
HomeCooked
The Plaid Pajamas Project
St. Luke Lutheran Church
Thanks to the amazing Holiday Drive 2020 Committee!
Chairs:  Doreen McGillis and Jeanne Swope
Jean Allen
Jenny Rosback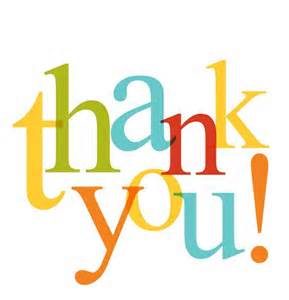 Cammy Wagner
Pat Clark
Julia Fisher
Jean Purinton
Story Picard
Mary Frances Szpila
Bonnie Motel
Karen Ridder
Sandi Gorman
Tarin Cataldo
Sponsoring families or purchasing gift cards – 2020
While we're all getting used to the "new normal" these days, the needs of families in our community continue to grow. The T&E Care Holiday Drive will once again provide support and cheer for so many local families.  To accommodate COVID restrictions, we have had to change some steps in our process. Here are the basics:
Families have requested household items and gifts for their children, Sign Up Genius will be available from November 11-December 4 to select gifts to donate.
There will be NO food, cleaning, toiletry, or college baskets this year.  We will replace these baskets with gift cards.
Given the increased number of families we are helping and the fact that we are replacing baskets with gift cards, we will be requesting a large amount of gift cards to make our Holiday Drive successful.
We are happy to accept general donations via check, venmo, or credit card/paypal; our committee members will use those funds to purchase gift cards or requested gifts.
As in the past, we are asking donors to wrap their gifts in advance and label them with what is inside. If you need assistance, please contact us. We are happy to help.
We expect a higher volume of online purchasing this year overall, so please allow for more delivery time for online purchases.
Please print and complete the Donor Form (below) and drop off with your gifts.
We will not be using St John's Church this year; gifts will be dropped-off at ~20 homes around the area (Holiday Drive Ambassadors). We highly recommend you select gifts from within ONE family to help manage the drop off process.  Different families may have different drop-off locations.
All items should be dropped off at the assigned Ambassadors' homes on either Saturday, December 5th or Sunday, December 6th.  You will be provided with the drop-off addresses, via email, in early December after you have selected families/gifts on the Sign Up Genius and we have sorted through all the donations.  If you cannot make these dates work, contact us for another option.
Questions, PLEASE contact us at holidays@tecare.org
If you are only donating gift cards, there are 3 options for dropping them off:
Drop them off at our Gift Card Chair's home prior to December 4th. She can be reached at 

giftcards@tecare.org

 and will give you drop-off details. This is our preferred option.
Drop them off at the Ambassador's homes on December 5 or 6.
Mail them to T&E Care-Holiday Drive, PO Box 2111, Southeastern, PA 19399 (be sure to mail them well prior to Dec. 4, given all the issues with mail delays)
Before dropping off your donations, please download and fill out a DONOR FORM (below). All donors (individuals and groups) will use the same donor form.  
Completing the Sign-up Genius form:
You will see multiple tabs for different sizes of families from which to choose, plus a tab just for generic gift cards.  If one tab is fully claimed – be sure to check out options on other tabs.

Choose a family(s) and/or item(s) from a tab.  Check the box beside each item you select to donate. To select the entire family you must check each box in the family's section.  Because of our new drop-off program, you are encouraged to select items from within one family so your delivery will be easier.

If you want, you may continue to select more items or families from that tab, or from any other tab,

but you must click on  "Submit and Sign Up" at the end of each tab to confirm your selections before you move to another tab. 

You will receive an email from SignUp Genius confirming your choices. If you have selected families or items from multiple tabs you will receive multiple emails.

You will be notified of your drop off location(s) before the December 5 or 6 dates.

Completing your selections is as easy as providing your name, email and phone number.

    
Donations for the T&E Care Holiday Drive 
Thanks for any donations you want to make.  Our volunteers will use these to cover any needed gift cards and/or unclaimed gifts.   If you are making a donation for the Holiday Drive, please note that with the payment. 
DONATING WITH VENMO:
You can use Venmo to make a donation
Our logo is:   and our ID is @tecare

IMPORTANT NOTE

 – if you are new to T&E Care, we need your email to send a note of thanks.  Venmo does not automatically provide this information.  Please send us an email at venmo@tecare.org to alert us of your donation.  If you want a mailed receipt, please also send your mailing address.
DONATING WITH A CREDIT CARD OR PAYPAL:
The button below is for CREDIT CARD/PAYPAL donations and prize tickets purchases
. 
PayPal charges approximately 2.5% processing fee for each dollar donated.  If you would like 100% of your donation to go to T&E Care, please add this fee to your donation.
You do NOT need a PayPal account to make a donation; any major credit card will work.
T&E Care will NOT be given any of your personal credit card information.
DONATING WITH A CHECK:
Checks should be mailed to T&E Care, PO Box 2111, Southeastern, PA 19399, attn: Holiday Drive.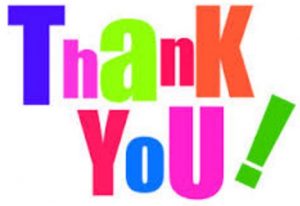 Check out the image below to see the best way to label any gifts.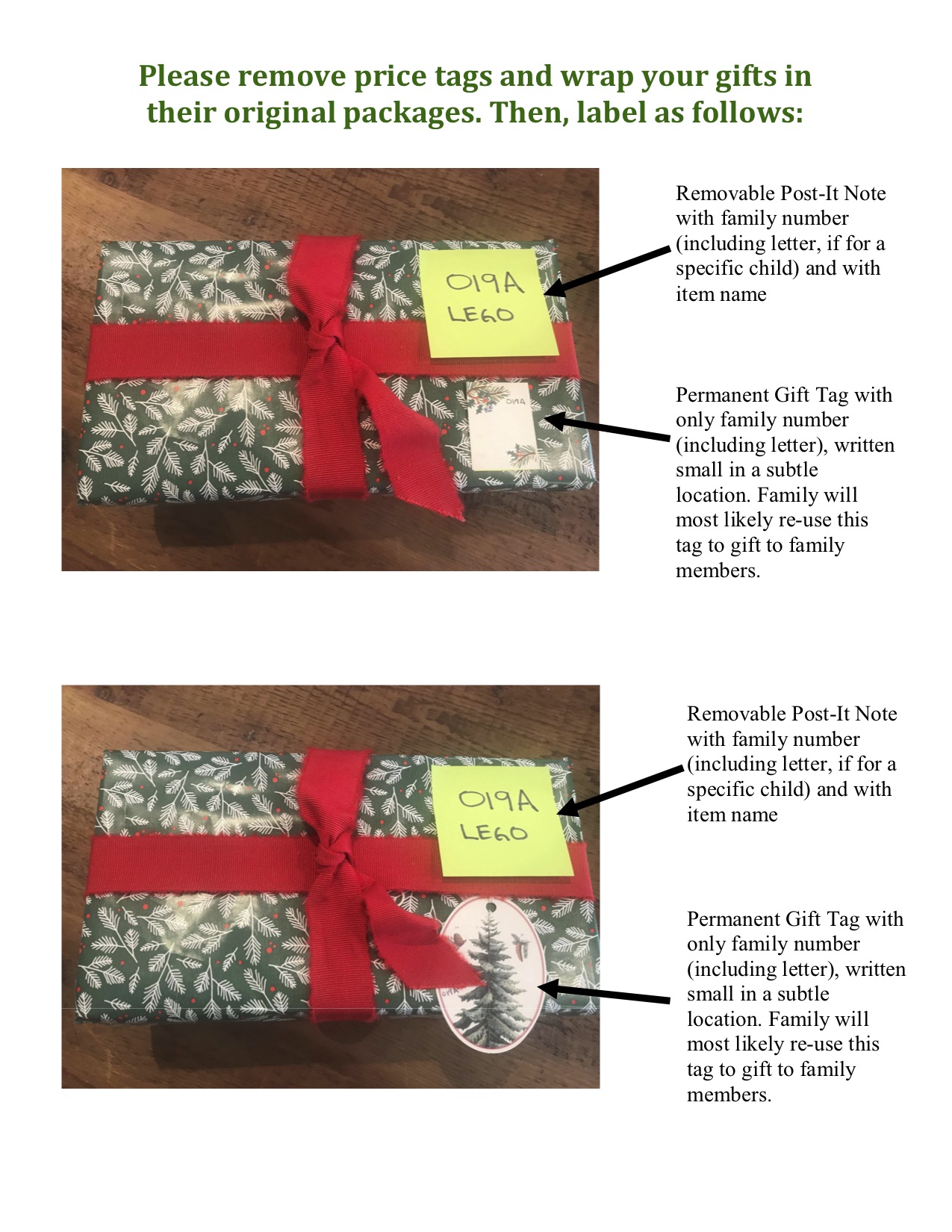 FORMS FOR HOLIDAY DRIVE

Forms to download for this year's Holiday Drive:
2020 Holiday Drive Donor Form – if you are making a donation of gifts and/or gift cards to the Holiday Drive, please include a copy of this form when you drop off your items.
Donation Receipts – if you made a donation to the Holiday Drive you should receive an email or letter of thanks.  But if you want to just print out a receipt, you can download one here.
Holiday Drive Summaries
For summaries of past holiday drives, including pictures and the list of sponsors and donors, go to the Archived Holiday Drive page.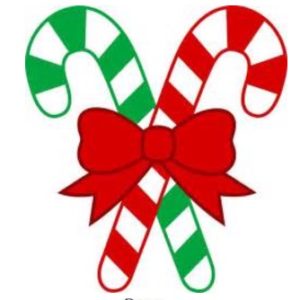 The mission of T&E Care is to maintain a network of people providing financial and other material assistance to persons in need in and around the Tredyffrin and Easttown township areas.
Home  ...    Contact Us   ...  Donate   ...  Volunteer  ...  About  ...  Looking for Assistance
T&E Care is an IRS recognized non-profit organization under section 501(c)(3) of the tax code.   The official registration and financial information of Tredyffrin & Easttown Care may be obtained from the Pennsylvania Department of State by calling toll free, within Pennsylvania, 1 (800) 732-0999. Registration does not imply endorsement.
IMPORTANT NOTE** If you change your email address - please remember to notify us so we can keep you on our email list!!