Running an event or fundraiser for T&E Care
Over the years a number of families, organizations or businesses have offered to run events or fundraisers that involve T&E Care. Stores have done shopping days for T&E Care. Families have held parties with donations to T&E Care instead of hostess gifts. 5K's have been run for T&E Care. There may be a special event where T&E Care representatives will be in attendance.  There are lots of options; be creative and help us out while having a great time! Check below to see if there are any special events or fundraisers currently being offered. In the meantime, contact us at
information@tecare.org
 to talk with us about hosting an event or fundraiser.
Upcoming/Current Special Events
​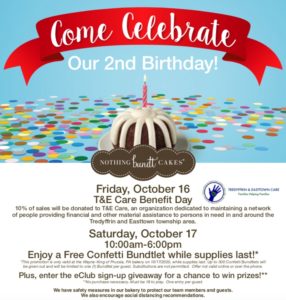 Nothing Bundt Cake event – October 16, 2020
Erin and Mike Shine, the owners of Nothing Bundt Cakes in the Gateway Shopping Center  are about to celebrate their 2nd anniversary of the store.  When they opened the store in 2018 they hosted a "give back" day for T&E Care – which was such fun for us!  Well – they want to do it again!  On Friday, October 16, 10% of any purchases at Nothing Bundt Cakes will go to T&E Care! If you want to really indulge, on Saturday, October 17 they are offering free confetti bundtlets (while supplies last).  Happy shopping!  Happy eating!  And thanks to the Shines for their continued generosity to this community!
The mission of T&E Care is to maintain a network of people providing financial and other material assistance to persons in need in and around the Tredyffrin and Easttown township areas.
Home  ...    Contact Us   ...  Donate   ...  Volunteer  ...  About  ...  Looking for Assistance
T&E Care is an IRS recognized non-profit organization under section 501(c)(3) of the tax code.   The official registration and financial information of Tredyffrin & Easttown Care may be obtained from the Pennsylvania Department of State by calling toll free, within Pennsylvania, 1 (800) 732-0999. Registration does not imply endorsement.
IMPORTANT NOTE** If you change your email address - please remember to notify us so we can keep you on our email list!!