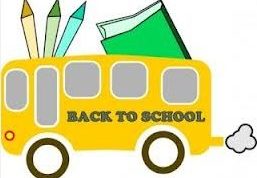 2021 School Supply Drive – Here We Go!
With life returning to a closer to "normal" format – T&E Care plans to return to the more traditional School Supply Drive this coming summer.  This is our event to help provide the needed supplies to any local families who struggle to buy them. We sure want to level that playing field for all our neighborhood kids!
So far here are the details for the drive:
This year instead of sponsoring a student – we will just be asking for supplies.  So for example – instead of sponsoring 2 kindergarten boys, you might offer to buy 100 pencils.
The list of needed supplies will be posted on SignUp Genius link when it goes live around July 5.  The exact date is still TBD.
We hope to have donations dropped off at either the Easttown or Tredyffrin Libraries for a few weeks in July – those details are still being finalized
The schools don't expect the supply lists to be as extensive going forward, given the amount of work done on iPads or laptops.  If their lists are shorter, then ours likely will be as well.
We do hope to get gift card donations as well.  We won't need as many as last year but we still want to offer each child approximately $50 in gift cards so he/she can get some extra supplies, or shoes, or underwear, or socks, or whatever else is needed.  We will just be asking for Target or Walmart cards this year.  (more details below)
FLITE again will be providing the back packs and any needed bags. (THANKS FLITE!)
We will be going to Conestoga HS to sort the supplies the morning of Wednesday, July 28. If you are free that morning and want to help out, please contact us at  schoolsupplies@tecare.org.  (Sorry, no students this year.)
If you are interested in helping out with the event in a different way, or if you have any questions about this year's drive, please contact us at  schoolsupplies@tecare.org.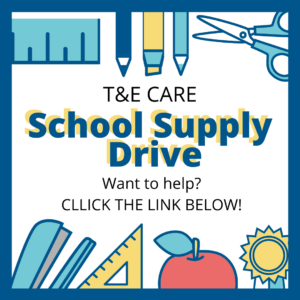 When the SignUp Genius link is ready with the specific requests, we will post it here.  Watch for it around July 5.
Donating Gift Cards
We will be looking for at least one $50 gift card for each child being supported by the School Supply Drive. These cards can then be used for any additional supplies, or for basics like new socks or shoes, or even new underwear!  All the things that many of us take for granted.  With over 200 kids getting support – that's at least $10,000 in gift cards.  We recognize that this is no small request! 
If you are willing to donate gift cards – you can do that at any point (you do not need to wait until the SignUp Genius is live).  The best stores for gift cards are Walmart or Target.  Please contact us at schoolsupplies@tecare.org and we can give you details on dropping off these cards.  MANY thanks!
For FINANCIAL DONATIONS: If you would like to help but don't want to shop for gift cards, cash donations can also be made and we'll do the shopping. Donations can be made by check (made payable to T&E Care), with Venmo (@TECARE), or through PayPal (click the Donate button below).
IMPORTANT NOTE for Venmo users – if you are new to T&E Care, we need your email to send a note of thanks.  Venmo does not provide it.  Please send us an email at venmo@tecare.org to alert us of your donation so you can be properly thanked.  Our venmo logo is: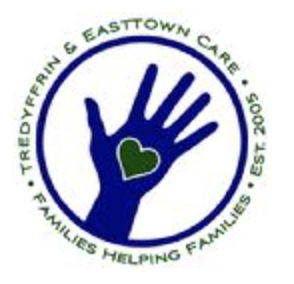 Many thanks for your support!

PayPal/credit cards charge a 2.35% processing fee for each dollar donated.  If you would like 100% of your donation to go to T&E Care, please add this fee to your donation.  You can pay by check as well to avoid the fees. (T&E Care, attn: School Supply Drive, PO Box 2111, Southeastern. PA 19399.)
Important Forms to Download
Donation Checklist 2020 – Please include this form with your donation of gift cards for this drive. It makes our record keeping much easier.
Tax Donation Form – if you made a donation and need a tax donation form, then you can click here and use this along with your receipts.  You should be getting a thanks note from a T&E Care volunteer once the event is over, but you may want this as well.
The mission of T&E Care is to maintain a network of people providing financial and other material assistance to persons in need in and around the Tredyffrin and Easttown township areas.
Home  ...    Contact Us   ...  Donate   ...  Volunteer  ...  About  ...  Looking for Assistance
T&E Care is an IRS recognized non-profit organization under section 501(c)(3) of the tax code.   The official registration and financial information of Tredyffrin & Easttown Care may be obtained from the Pennsylvania Department of State by calling toll free, within Pennsylvania, 1 (800) 732-0999. Registration does not imply endorsement.
IMPORTANT NOTE** If you change your email address - please remember to notify us so we can keep you on our email list!!