School Supply Drive 2022 – The results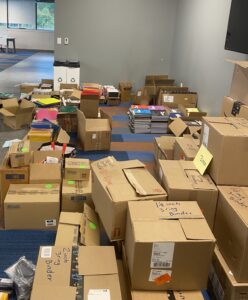 It was another very successful year for the T&E Care School Supply Drive!  Thanks to so many folks for helping out – whether it was in purchasing supplies or gift cards, making cash donations, or sorting supplies – it all makes a huge difference.  To date 217 students will be offered this assistance (we expect a few new students will be added when school starts in the fall).  That's a lot of pencils and pens!  Over $10,000 worth of Target gift cards were handed out as well.  That offers a little extra help to the families as they look for extra supplies or clothes.  A very special thanks to the School Supply Drive committee (listed here) – with a special shout out to Jen Bracco for leading the way.  Jen is an amazingly organized person and it really pays off.
We also want to thank the various groups and businesses that lent a hand for this drive:
FLITE – donating the backpacks
EVOLVE IP – for providing sorting and packing space
Howard Kim/CHS Project Wellness Club – for providing hygiene bags for each student
TEMS & VFMS – for organizing supply drives
Cradles to Crayons – for donating supplies
TE Moms – donated gift cards
Trinity Presbyterian Church – donated gift cards
Delaney Designs – donation for supplies
Target – donated gift cards
As with everything – it's a real team effort!  Enjoy the pictures below to see the results of your efforts.  THANKS!!
Notes of thanks from families receiving supplies
Below is a note we recently received now that the supplies are being distributed.  Thank you for all your efforts!
Thank you so very much for all the school supplies that we just picked up today!  Particularly this year with the high inflation this help was greatly needed and appreciated! Your hard work to help the people in the community and make a difference for so many of us does not go unnoticed!  Much Appreciated!
Thanks to our volunteers!
Many thanks to the rock star School Supply Drive committee that has been hard at work organizing this important event.
Jen Bracco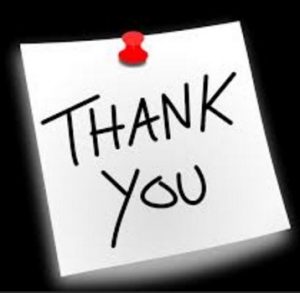 Paula Cardenas
Kim Jamme
Michele Krohn
Amanda Miller
Colleen Mullin
Kate Peyton
Mary Frances Szpila
Jean Allen
Tina Whitlow
Chris Ivory – T&E Kids Care Club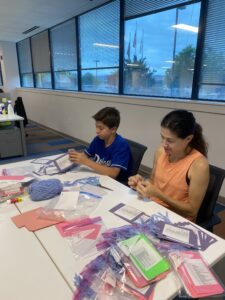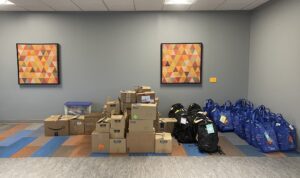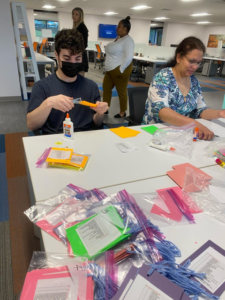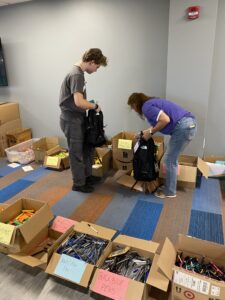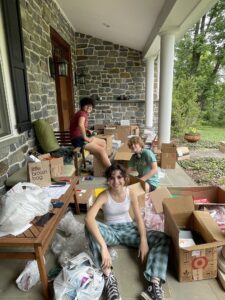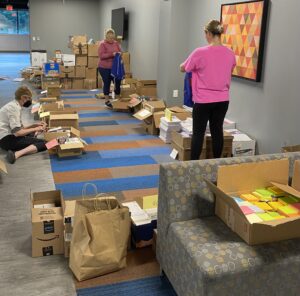 The information below is to help archive the details for next year!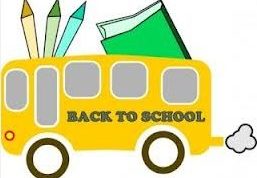 2022 School Supply Drive – The Basic Details
T&E Care held its annual School Supply Drive and all the supplies and gift cards should now be in.  This event helps to provide the needed supplies to local families who struggle to buy them. This way we hope to level the playing field for all our neighborhood kids!  Thanks for helping us to make this happen!  We also thank those helping to sort this week!!!  It will soon be finished!
If you still need to drop off supplies, and need that information – we have left the link to the SignUp Genius page below.  Otherwise send us a note to schoolsupplies@tecare.org.  
For reference in the future – the directions for our SignUp Genius process are:
Check out the wishlist and submit your desired donations.
Complete the donor form (attached below)
Shop for the items/gift cards and have them delivered by June 22nd.
Items in bulk or box are accepted, just make sure you select the right amount of items donated on the sign up list, according to what is listed. Not sure about it? Leave a comment!
Rather do a PayPal, Venmo or check donation? If you would prefer to send a monetary donation instead of shopping for items, yes, we do accept them and use them to buy any needed items.  See details on how to make those donations on this website.
Rather get gift cards?  We will need them as well.  See the details on how to make those donations on this website.

For online orders

:

Scan/email the donor form to us – schoolsupplies@tecare.org
Choose whatever store you want.
Delivery information is on the SignUp Genius page.
Please complete the order as if it is a gift – then you can include your name/contact info on the "gift message" so we know who it is from.
Please be sure the delivery is scheduled to arrive no later than June 22nd.

If you go shopping

:

Include the donor form with the delivery.
Delivery information is on the SignUp Genius page
A few other notes:
Volunteers needed

:  We need volunteers to help sorting the supplies on June 27th, 28th 29th, and 30th (9am-2pm). We'll be doing this at Evolve IP, 630 Allendale Rd, in KofP.  If you are free in any of those days and want to help out, please sign up on our Volunteer SignUp Genius link.
Because we are shopping for items and not sponsoring children, please purchase gender-neutral items.
FLITE will again be providing the back packs and any needed bags.  THANKS FLITE!
If you have any questions about this year's drive, please contact us at  schoolsupplies@tecare.org.  We constantly check our emails to answer you promptly!
The mission of T&E Care is to maintain a network of people providing financial and other material assistance to persons in need who live in and around the Tredyffrin and Easttown township areas.
Home  ...    Contact Us   ...  Donate   ...  Volunteer  ...  About  ...  Looking for Assistance
T&E Care is an IRS recognized non-profit organization under section 501(c)(3) of the tax code.   The official registration and financial information of Tredyffrin & Easttown Care may be obtained from the Pennsylvania Department of State by calling toll free, within Pennsylvania, 1 (800) 732-0999. Registration does not imply endorsement.
IMPORTANT NOTE** If you change your email address - please remember to notify us so we can keep you on our email list!!