School Supply Drive 2020 – THANKS!!!
This year, due to Covid-19, our 2020 School Supply Drive looked quite different than in past years. We appreciated your patience with these adjustments while we attempted to keep everyone safe. Thanks to our amazing donors, we collected gift cards and donations (which were then used to purchase more gift cards) so we could offer each student in the program $100 in Staples, Walmart, or Target cards.  These could then be used by the families to purchase whatever supplies are needed, along with some basic clothes or other necessities for the kids.  With around 200 students, this is no small project!
We are very grateful for the support of the community, as well as FLITE (which funded our purchase of the backpacks for any students making such requests), the TE Moms Group,  and Wegmans (which donated $250 in gift cards).  
THANKS to the wonderful committee that is pulling together all the details of this event:  Jen Bracco, Paula Cardenas, Sarah Culbert, Rita Gosnear, Jean Purinton, Jennifer Roessler, Eileen Ryle, Mary Frances Szpila, and Jessica Weinberg.
 While the drive is over, late donations can always be accepted.  If you are interested in donating to the drive, you can either use our Venmo or PayPal link below, or make checks payable to T&E Care. You can mail checks to T&E Care, attn: School Supply Drive, PO Box 2111, Southeastern, PA 19399.  
If you have any questions about this year's drive, please contact us at  schoolsupplies@tecare.org.
Important Forms to Download
Donation Checklist 2020 – Please include this form with your donation of gift cards for this drive. It makes our record keeping much easier.
Tax Donation Form – if you made a donation and need a tax donation form, then you can click here and use this along with your receipts.  You should be getting a thanks note from a T&E Care volunteer once the event is over, but you may want this as well.
For FINANCIAL DONATIONS: If you would like to help but don't want to shop for gift cards, cash donations can also be made and we'll do the shopping. Donations can be made by check (made payable to T&E Care), with Venmo (@TECARE), or through PayPal (click the Donate button below).
IMPORTANT NOTE for Venmo users – if you are new to T&E Care, we need your email to send a note of thanks.  Venmo does not provide it.  Please send us an email at venmo@tecare.org to alert us of your donation so you can be properly thanked.  Our venmo logo is: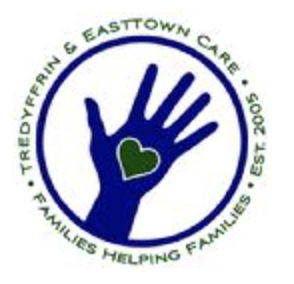 Many thanks for your support!

PayPal/credit cards charge a 2.35% processing fee for each dollar donated.  If you would like 100% of your donation to go to T&E Care, please add this fee to your donation.  You can pay by check as well to avoid the fees. (T&E Care, attn: School Supply Drive, PO Box 2111, Southeastern. PA 19399.)
The mission of T&E Care is to maintain a network of people providing financial and other material assistance to persons in need in and around the Tredyffrin and Easttown township areas.
Home  ...    Contact Us   ...  Donate   ...  Volunteer  ...  About  ...  Looking for Assistance
T&E Care is an IRS recognized non-profit organization under section 501(c)(3) of the tax code.   The official registration and financial information of Tredyffrin & Easttown Care may be obtained from the Pennsylvania Department of State by calling toll free, within Pennsylvania, 1 (800) 732-0999. Registration does not imply endorsement.
IMPORTANT NOTE** If you change your email address - please remember to notify us so we can keep you on our email list!!