Offers of Free "Stuff"
Local community members occasionally offer items that are in great shape. If you have a need for any of the following items, please let us know and we'll connect you with the person making the offer. Remember these are first come first served, so don't delay if you see something you want. Tredyffrin or Easttown residents only.
NOTE: Please know that it is VERY helpful if you can provide the transportation needed to pick up your item(s) of choice.
Twin mattress and box spring –  in good condition  SZ 10/2/22
Desk – Dimensions are 41.25" w x 19.75" deep and 29.5 h, pic below  SZ 10/2/22
Desk –  desk and chair, pic below, delivery available  CV  10/1/22
Crib/Day Bed –  used crib but in good shape, can also be used as a day bed, mattress included, pic below  JD 9/27/22
Couch, Love Seat, and Chair with ottoman –  see pics below, all in good condition, donor would like to have them picked up by 10/1  TC 9/22/22
Toddler Bed –  only used a few times, mattress is basically brand new, see pic below  SS 8/3/22
Chair –  wing chair, see pic below, delivery available  JB 7/7/22
Table – small table on wheels, side that folds up, pic below, delivery available  JB 7/7/22
]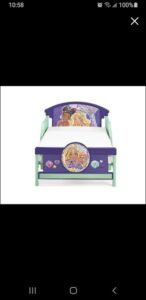 Toddler Bed SS 8/3[/caption]
The mission of T&E Care is to maintain a network of people providing financial and other material assistance to persons in need who live in and around the Tredyffrin and Easttown township areas.
Home  ...    Contact Us   ...  Donate   ...  Volunteer  ...  About  ...  Looking for Assistance
T&E Care is an IRS recognized non-profit organization under section 501(c)(3) of the tax code.   The official registration and financial information of Tredyffrin & Easttown Care may be obtained from the Pennsylvania Department of State by calling toll free, within Pennsylvania, 1 (800) 732-0999. Registration does not imply endorsement.
IMPORTANT NOTE** If you change your email address - please remember to notify us so we can keep you on our email list!!